L I N K M E
Show your support for Filia-chan and this shrine by linking to Golden Dragon! This website is 100% link-free, and I've even made a couple of buttons/banners for you to use. So far, there aren't too many to choose from, so donations would be loved! (hint,hint!)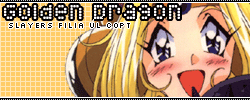 Copy n' Paste for Text Links:

Please don't direct-link to these images! Instead, spend an extra second to save and upload them to your own server -- it'll save me a lot of bandwidth. Thank you for supporting Golden Dragon! :P
This page was last modified 03-08-03. All of the written content, graphics, and HTML are copyrighted © 2001-2003 by Chexyione. Slayers, Slayers Next, and Slayers Try are copyrighted © 1989 - 1999 Hajime Kanzaka \ Rui Araizumi \ Kadokawa Shoten \ SOFTX \ TV TOKYO. Golden Dragon is not affiliated with SOFTX in any way.